On our menu you will find dishes ranging from the most traditional avant-garde sensations to our latest creations.
A meticulous selection of signature cuisine suitable for all tastes. You decide on your own particular gastronomic cocktail.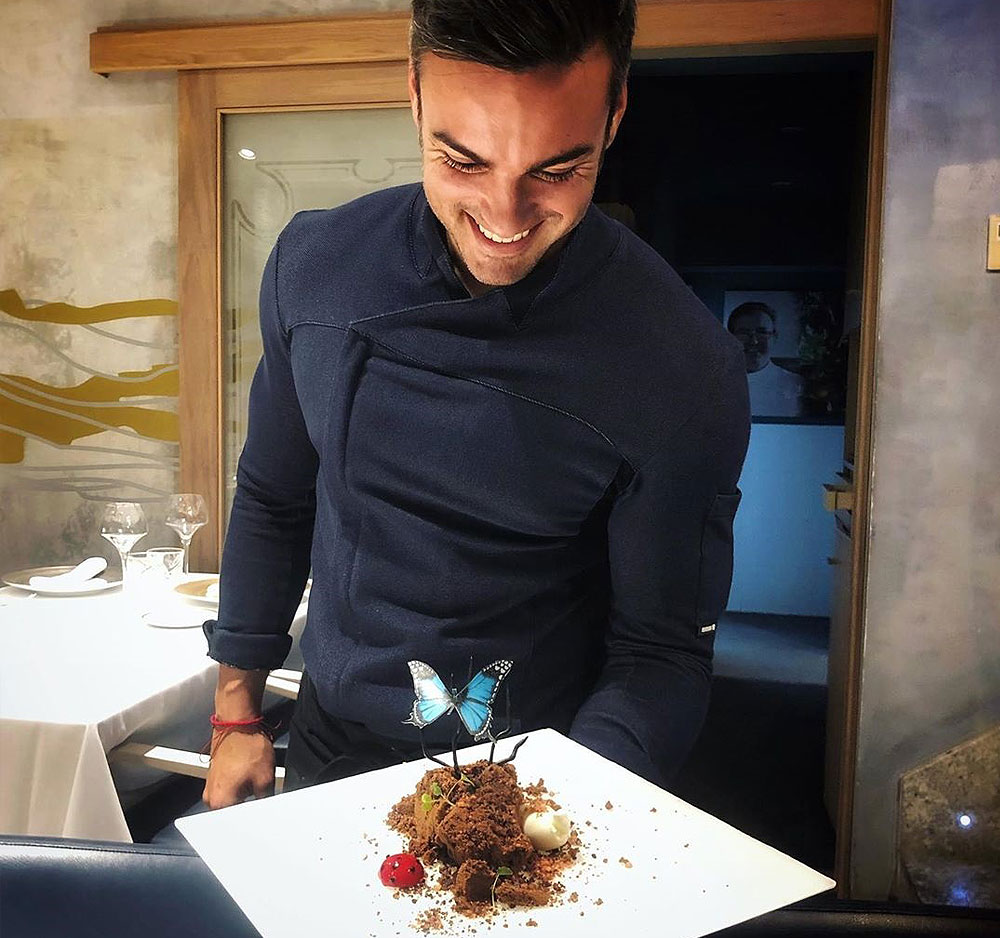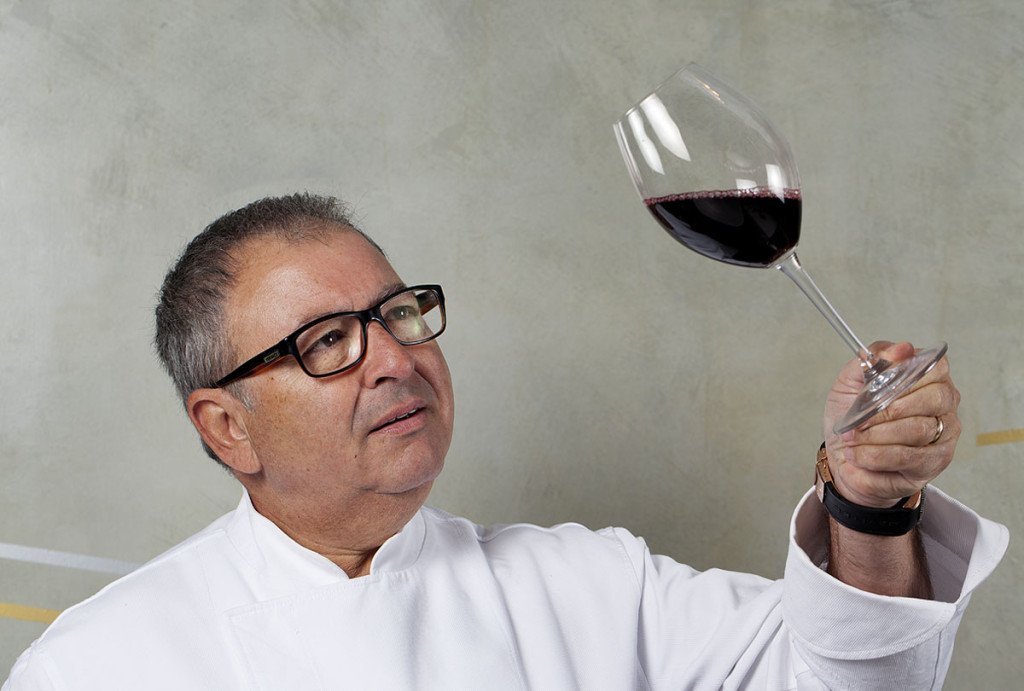 Our cellar has more than 300 wines of the world, as well as a wide selection of french wines and champagnes.
For the enjoyment of our customers, the wine cellar, situated next to the restaurant's second floor dining room, keeps all its wines, cavas and champagnes in the optimum conditions and temperature.
We have at your disposal our menus of creative cuisine, author cuisine or traditional cuisine of Cambrils in which you will find from the most traditional avant-garde sensations, to our most current creations.
A careful selection of author proposals suitable for all types of palates, so that you can decide your own gastronomic cocktail.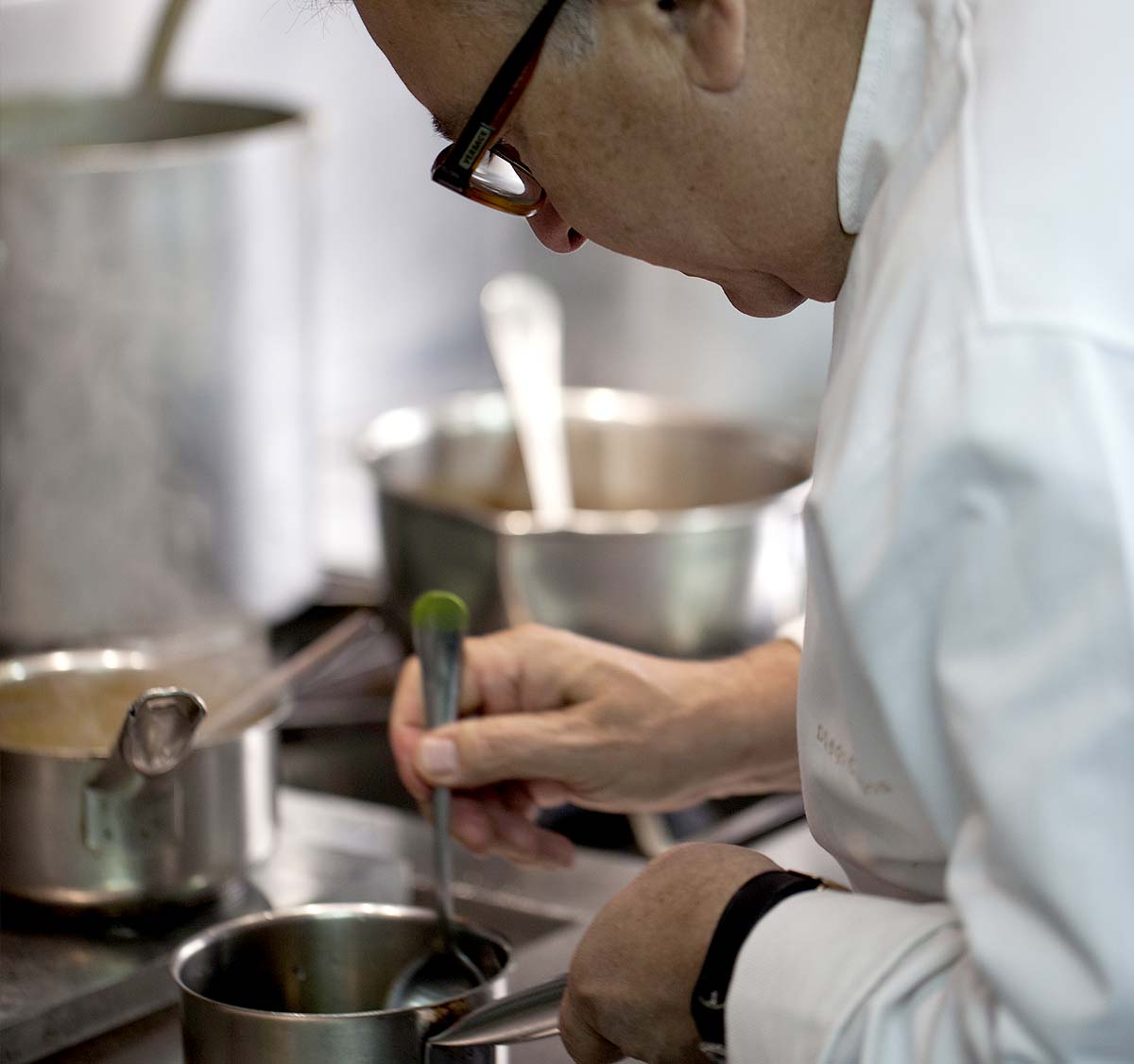 40th Anniversary Menu
(40th Anniversary Special Menu)
RASPBERRY AND BITER KAS GAZPACHO 2013

TANDOORI CHICKEN AND YOGURT CROQUETTE 2022

SHRIMP AND TOMATO TARTARE CONE 2002

OYSTER, APPLE, CELERY AND LIME SORBET 2012

SEA BASS, WHITE SHRIMP AND PASSION FRUIT CEVICHE 2017

WALNUT BREAD TOAST WITH CARAMELIZED ONION AND FOIE MICUIT 1987

RED TUNA TARTARE, CRISPY SHISO AND AVOCADO 2011

THAI GREEN PAPAYA SALAD, PRAWNS, SOFT SHELL CRAB, LIME CILANTRO SORBET 2014

RED PRAWN FROM TARRAGONA WITH RED CURRY 2018

LOBSTER, FRIED EGG, CAVIAR AND ANCHOVY SAUCE 1990

SCALLOP CHILI CRAB WITH CRAB AND PUFF PASTRY BREAD 2017

GOLDEN LANGOUSTINE RICE 2004

THAI FISHERMEN'S ROMESCO WITH BLOND MONKFISH AND RAIL CLAM 2016

TO CHOOSE:

SUFFLE ALASKA 1983
DARK CHOCOLATE SOUFFLÉ 1999

CELLAR, MINERAL WATERS AND COFFEES

CELLARS WEEK OF MAY 11 TO 17, 2023

D.O. CAVA JUVE
JUVE&CAMPS MILESIME
CAVA GRAN JUVE CAMPS

CELLAR CLOS GALENA
WHITE WINE FORMIGA DE SEDA PRIORAT 2022
GALENA PRIORAT RED WINE 2019

CELLARS WEEK OF MAY 18 TO 24, 2023

D.O. CAVA
CAVAS VILARNAU
VILARNAU BRUT ROSÉ DELICAT - RESERVE "ECO"
(GARNACHA, PINOT NOIR)

VILARNAU BRUT NATURE - GREAT RESERVE
(MACABEO, PARELLADA, CHARDONNAY, PINOT NOIR)

D.O. RIAS BAIXAS
BODEGA PAZOS DE LUSCO
LUSCO (ALBARIÑO)

WINE FROM THE LAND OF CASTILE
BODEGA FINCA CONSTANCIA - TOLEDO
ALTOS DE LA FINCA
(SYRAH, PETIT VERDOT)

CELLARS WEEK OF MAY 25 TO 31, 2023

TORELLÓ WINERIES
CORPINNAT GRAN TORELLÓ BRUT NATURE 2015
(XAREL·LO, MACABEO PARELLADA)

TORELLÓ MAS DE LA TORREVELLA 2022
(CHARDONNAY FROM THE CAN MARTÍ ESTATE)

CORPINNAT TORELLÓ ROSÉ BRUT RESERVA 2020
(PINOT NOIR FROM THE CAN MARTÍ ESTATE)

CELLARS WEEK FROM JUNE 1 TO 7, 2023

CELLAR CASTELLROIG
SO SERÈ
(XAREL·LO FERMENTED AND RAISED IN CHESTNUT BOOT)

CELLAR LES VINYES DEL CONVENT
MON PARE
(SYRAH, GARNACHA RED AND CABERNET SAUVIGNON)

CORPINNAT
MOSSET
(XAREL·LO, MACABEO, PARELLADA, 40 MONTHS AGING)

40TH ANNIVERSARY SPÉCIAL MENU

Prix par person
(VAT included)

Book: 977 36 13 07
Gastronomic Menu
(40th Anniversary Special Menu)
THAI GREEN PAPAYA SALAD WITH PRAWNS
OR
SEA BASS CEVICHE WITH CELERY AND LIME ICE CREAM AND SHRIMP

GOLDEN RICE WITH LANGOUSTINE AND SOFT ALIOLI
OR
PRAWN, BEETROOT AND SMOKED EEL

THAI FISHERMEN'S ROMESCO WITH BLOND MONKFISH, RAIL CLAM
OR
PUFF PASTRY STUFFED WITH FOIE GRAS WITH PORT AND TRUFFLE SAUCE

THAI RICE PUDDING
OR
SOUFFLE OF CHOCOLATE

GASTRONOMIC SPECIAL MENU 40 ANNIVERSARY

Prix par person
(VAT included)

Book: 977 36 13 07
Tradition Menu
(40th Anniversary Special Menu)
OYSTER AND PRAWN SALAD WITH ROMESCO SAUCE

NOODLES WITH NATIONAL LOBSTER AND CLAMS

TRADITION SPECIAL MENU 40 ANNIVERSARY

Prix par person
(VAT included)

Book: 977 36 13 07